What's up with this mascara?
Moisture, tears, or even rain may cause mascara to run,
Pandas are cute and fun,
But it doesn't mean that we want to look like one!
Do we?
Ladies! What if we tell you that you can get your Lash and brows "on fleek" without wasting so many minutes every morning?
Yes! We're talking about Brow and Lash Tinting, the saviour.
The popularity of lash tinting has surged in recent years, and it may have some impressive results. Basically, after getting lash tints done by an expert with an eyelash extension course , it mimics the look of mascara without the hassle of actually swiping it on.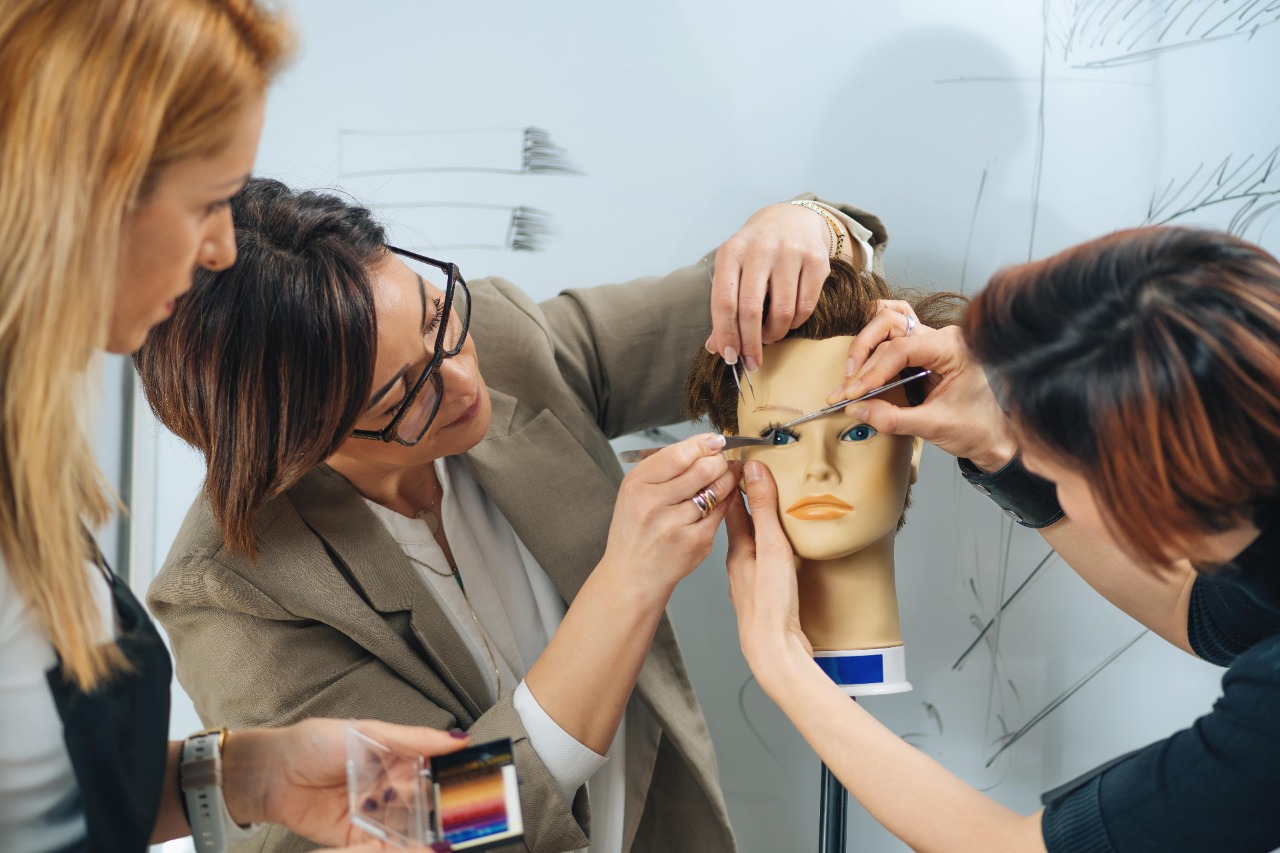 What is it?
Tinting your lashes or brows involves applying dye directly to them to change their colour, shape, or thickness.
This approach should take no more than 30 minutes for both treatments.
The dye is placed directly on the brows and dried before removing it.
Your eyes will be covered with a protective eye pad, and you will be expected to keep them closed during the process.
Like brow tinting, the dye is applied to your lashes for a few minutes before removing it.
Tinting eyelashes is a bit more complex.
Before starting the process, the trained professional will go through your choices and expectations. They will assist you in picking the best dye colour for your complexion, hair, and eyes.
Who Should Have Their Eyebrows and/or Lash Tinted?
A person who spends a lot of time each day applying many layers of mascara or precisely drawing in their brows may benefit from this procedure. It is also great for individuals who have the following reasons to use it.
Makeup allergies and sensitivities.
Don't have the time to put on your makeup.
If you use Contact lenses.
Your mascara smudges or fades easily.
Don't want to put in the time or effort to have a fresh look every day.
Some strong reasons to give it a go
A lash tint may replace daily mascara for up to a month.
Makeover: Eye Lash and Brow tinting are great for those who want to look like supermodels.
A more arched aspect: If your brows are pale, tinting is necessary.
It lasts between 14 and 21 days: A month without brow filler is a long time. We'll have an extra minute in the morning to sleep, play with our kids, or drink coffee.
Want to become a Brow and eyelash tinting professional yourself?
Check out asia's leading makeup academy for your training. With Eyelash and Eye Tinting Certification training, Orane International, the Best makeup academy, can help you become an expert in semi-permanent eye makeup. Students enrolled in an eyelash and eyebrow certification program may acquire the most recent techniques for colouring and applying eyelashes and eyebrows in only a few weeks. If you possess hands-on experience and practical knowledge, you may become an expert in eyelash tinting and eye tinting techniques in only five days.
Conclusion
If you have a Certificate course in advanced makeup artistry at orane, you may join skin clinics, derma clinics, and estheticians that give these specialized treatments. Additionally, if you have a beauty salon of your own, you may attract more clients and make more money than ever before. Many people nowadays, especially those who are self-conscious about their looks, opt for lash and eye tinting procedures. Semi-permanent eye enhancement options are preferred by men and women, notably in the beauty and media professions, over conventional eye makeup such as mascara and brow pencil. The appearance of the face is enhanced by defining and attractively colouring the brows and lashes.